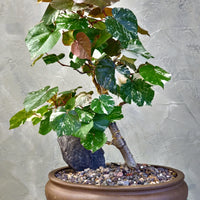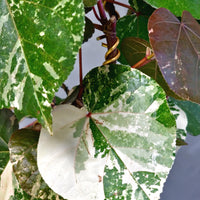 Hibiscus Tiliaceus, also known as the Sea Hibiscus is an evergreen tree in the mallow family, some more well known species in this family would be cotton, cacao and okra. This rare variegated Sea Hibiscus is a must have among plant enthusiasts. Native to most tropical regions of the world such as, Africa, Australia, Asia (As far north as Japan), even Hawaii.
In the wild it can grow up to 35 feet tall with a trunk diameter of 6 inches! This one already has a trunk an inch wide! Beautiful large yellow flowers with a deep red centre in the spring.
It is most known for its large heart shaped leaves that can be reduced up to 1/8 of their original size. Very easy to care for, do not allow to go through prolonged drought, we water ours twice a week. In order to ensure flowering it must have tons of bright light, it can tolerate a bit of direct sunlight but should be protected during the hottest hours of the day. Put it outside in the summer and you will see tons of flowers.

Free Bonsai Delivery in Ottawa and Gatineau area for all the orders placed online
Free complimentary card message if needed
Free gift wrapping
Life-long support from our Bonsai Guru - text us, call us, send us an email - we are here to help you!
Please, note, that while you select the species of the Bonsai Tree, the actual tree might be a bit different as all the trees are unique - the trunk, the exact quantity of the branches, the color of the pot or the color of decorative pebbles may vary