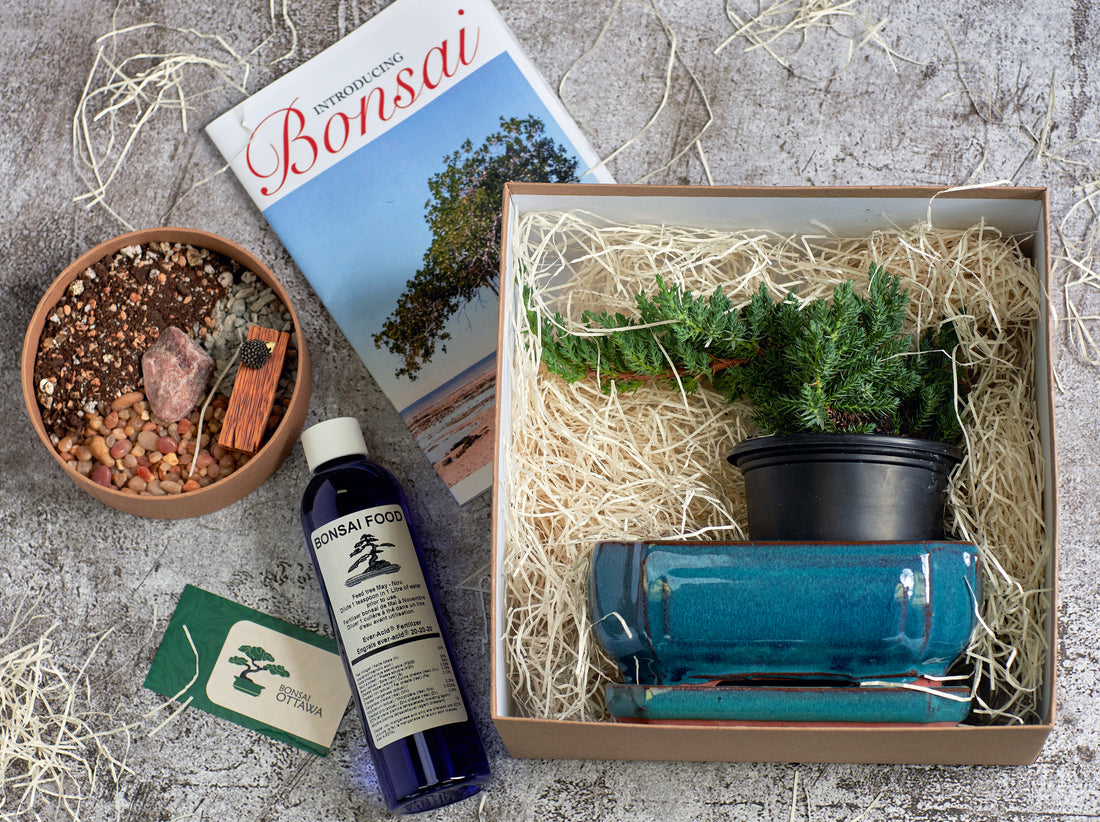 For all of our Bonsai Lovers - exclusively in Ottawa! DIY Bonsai Kit - is a perfect gift for someone very special of yours (including, yourself!). Treat your loved ones with this memorable opportunity to get a life-time friend in the house and an ongoing learning project that can be with the for years!
Watch our Exclusive Bonsai Tutorial Bonsai Starter DI KIT - Bonsai Ottawa - YouTube
https://www.youtube.com/watch?v=_0sB9r5Kgv8
Juniper Starter Bonsai DIY Kit includes: Juniper (4+ years old), ceramic pot with tray, bonsai soil, drainage stones, decorative stones, one rock, drainage nets, pot wire, training wire, fertilizer, Bonsai Introduction Brochure + accessory (subject of availability)
Complimentary card message is included (perfect to write your gift message)
Free Bonsai Delivery in Ottawa and Gatineau areas if order is placed online
Available in one size and for Juniper only 
To read more about Juniper Species, please visit https://bonsaiottawa.ca/blogs/bonsai-directory/juniper-bonsai-tree
Free Bonsai Delivery in Ottawa and Gatineau area for all the orders placed online
Free complimentary card message if needed
Free gift wrapping
Life-long support from our Bonsai Guru - text us, call us, send us an email - we are here to help you!
Please, note, that while you select the species of the Bonsai Tree, the actual tree might be a bit different as all the trees are unique - the trunk, the exact quantity of the branches, the color of the pot or the color of decorative pebbles may vary