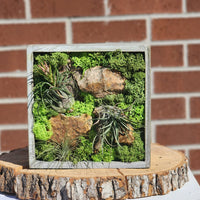 Air plants otherwise known as epiphytic plants are among the most ancient and fascinating of all plants. Billions of years ago, when plants made the switch from water to land, these epiphytic plants were one of the first to do so. They do not require soil to grow and receive most of their nutrients through the humidity in the air. Essentially, these plants are able to take care of themselves. During blooming season, most species also produce a beautiful flower ranging anywhere from a purple to yellow color. Keep these plants in indirect light and simply mist them weekly. If they are in a high humid environment, misting is unnecessary.
Product features: 
3 small air plants or 2 medium/large air plant, a variety of moss, decorative rocks, and bark arrive perfectly arranged in a spectacular masterpiece of nature
Wooden frame is included

Wooden stand is

 

not

 

included (Log)
Free Bonsai Delivery in Ottawa and Gatineau area for all the orders placed online
Free complimentary card message if needed
Free gift wrapping
Life-long support from our Bonsai Guru - text us, call us, send us an email - we are here to help you!
Please, note, that while you select the species of the Bonsai Tree, the actual tree might be a bit different as all the trees are unique - the trunk, the exact quantity of the branches, the color of the pot or the color of decorative pebbles may vary