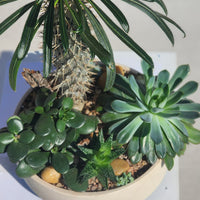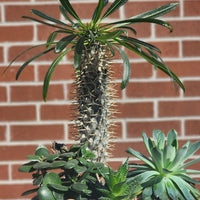 This stunning succulent arrangement is extremely low maintenance, requiring water roughly once a month. Loves a sunny spot. Inside this arrangement you will find a nice Jade, a few Echeveria, and a Madagascar Palm! Native to Madagascar this "palm" tree is not like all the other palm trees. It is covered in spines and technically a succulent.
Extremely low maintenance arrangement makes it perfect for anyone! Water only once every 1-2 months! 

Once they grow out of the arrangement you can transplant each into its own pot and watch them all get bigger! This arrangement can be kept for up to four years before needing to be transplanted.
Please note, you will receive the arrangement shown, however, all plants are unique and change over time. 
Free Bonsai Delivery in Ottawa and Gatineau area for all the orders placed online
Free complimentary card message if needed
Free gift wrapping
Life-long support from our Bonsai Guru - text us, call us, send us an email - we are here to help you!
Please, note, that while you select the species of the Bonsai Tree, the actual tree might be a bit different as all the trees are unique - the trunk, the exact quantity of the branches, the color of the pot or the color of decorative pebbles may vary